Happy Hour at Charleston

I had the pleasure of meeting up with some friends for happy hour a few weeks ago at Charleston. I'd only been there once and it was a million years ago, so I thought it was time to go back. I follow Chef Cindy Wolf on Instagram, which always reminds me of how committed she and business partner Tony Foreman are to using local, in-season ingredients. #golocal
Each Wednesday through August, Charleston offers a special weekly cocktail. They usually post it on Instagram that day and they're always creative and delicious – sometimes I have to Google ingredients, which is kinda fun. Along with your cocktail ($10 or glass of champagne for $8) you receive a lovely little plate of hors d'oeuvres by Chef Wolf. We had squash blossoms, gazpacho and a mini crab and corn salad. While it's not the cheapest happy hour special in town, it just might be the most civilized. Free valet parking, too. Weds 5:00-6:30pm in the bar.
Over at PAZO, they have some fun summer specials, too. If the temperature is above 90 degrees (duh, this is B'more) the dealio is half-off whites, roses and bubbles. And weeknights 5:00-7:00pm in the bar and lounge they offer select cocktails and tapas for $5 each.

                      Photo by Foreman Wolf
Around the corner from Charleston, Cinghale offers a "Cellar Raid" on Tuesdays from 5-10 in the Enoteca – half-priced bottles of wine. Weeee!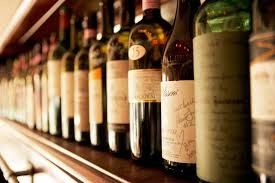 Photo by Foreman Wolf
Up near my 'hood (The Hampdens) in Roland Park, Johnny's has Whiskey Wednesdays every other week – next one is Wednesday, August 7 – and features not just whiskey…but whiskey cocktails! Guests will enjoy four two ounce pours of the following: Whiskey Sour with Maker's Mark, Manhattan with Knob Creek, Old Fashioned with Bulleit Rye and My Thai with Buffalo Trace. The tasting is $25 per guest and includes snacks by Chef Kiko. Call 410-773-0777 x 2 to reserve your place. These events are a lot of fun and I have so much to learn about booze, so I'm definitely going again! #research
Happy hour, it's not just on Friday.
Read more at Charm City Cook