Farm to Table Goodness at Fleet Street Kitchen
Yes, I'm writing about another Harbor East restaurant. The Hampden girl. But hey, I like to go downtown with the fancy people sometimes. I'm still amazed that Harbor East has become what it is – a dining and shopping destination downtown. How cool is that? I love this City! My big retail weakness there? Oh, just a little bit 'o Anthropologie. The housewares in that place are pretty much my biggest weakness. Ever. I'd almost say it's like crack…but I know that's an incredibly  overused term. Some friends of mine wanted me to name my salted caramel brownies "crack brownies." But, this is Baltimore and people already think we live on The Wire, so no. Let's just say this store is a real problem for me…
Harbor East is also filled with such good places to eat and drink. One fave is Fleet Street Kitchen. It's part of The Bagby Restaurant Group, which is a real presence in this super hot 'hood. Much like the folks over at the Michael Mina restaurants at the Four Seasons, PABU and Wit & Wisdom, as well as the Foreman-Wolf Group (Charleston, Cinghiale, Bin 604, PAZO in Harbor East), the folks at Bagby have done an excellent job in recruiting the best of the best to run them and are now considered anchor restaurants in Harbor East. And, we are the lucky ones who get to enjoy it all.
First up for the Bagby group was the opening of Bagby Pizza Co in 2009 – a great casual pizza joint on Fleet Street. I visited with some friends when it opened and we were all very impressed. Great service, even better pizza pie (and sammies, salads and more.) Then came TEN TEN (I went last year and dreamed about the pork belly BLT)…and then Fleet Street Kitchen, where I dined earlier this week. And…next up, Cunningham's Kitchen in Towson – a neighborhood that can really use a new restaurant! Get ready, my friends in the 'burbs of Towson, Ruxton, Lutherville, etc – it's gonna be good. Most likely opening in September 2013. They are working hard to get it open, but are more concerned with making sure it's exactly what they want. Bagby's Chief Operating Officer Chef Chris Becker (formerly the Chef at The Wine Market and most recently, Fleet Street), told me that he's writing the menu for Cunningham's now. And with Beverage Director Tim Riley at the helm, I'm confident that the drinks side of the house will be spot on.
Fleet Street Kitchen's Executive Chef Chris Amendola is new to the job, most recently as a chef at Blue Hill at Stone Barns in New York. Prior to that, he worked with chefs like Todd English at BlueZoo in Orlando and Sean Brock at McCready's in Charleston. Serious biz. Thanks in part to his experience with Dan Barber and Stone Barns, Chef Amendola is committed to sustainable agriculture and thanks to Cunningham Farms – the group's working farm – he has the perfect place from which to source local in-season produce. I can't wait to see what he comes up with as the seasons change here in Maryland.
As I mentioned, many of the ingredients on the group's restaurant menus are sourced from their very own farm in Cockeysville, Cunningham Farms. I'm planning to visit the farm later this summer. More on that later. Suffice to say, I'm excited to go out to the farm. Even though I'm a city girl, I do sometimes miss the country life of my childhood.
On my recent visit to Fleet Street Kitchen, I attended a special tasting dinner. I'd only ever been for drinks (they were on my Spring Cocktail Tour along with B&O Brasserie, The Food Market, PABU, Woodberry Kitchen and Wit & Wisdom) and I'd been trying to get back there for dinner for a while now. From the first bite – an amuse bouche of Cunningham Farms' sungold tomato and basil purée, pictured above – the food and wine were phenomenal and the people at Fleet Street were warm, friendly and attentive. They showed us a completely lovely evening, but with no pretense. Super approachable. I am always so happy when a more 'upscale' place is also very easy. It just makes everyone feel more at home. This was the case at Fleet Street.
Here is the tasting menu and photos of the courses. The wine pairings were perfect – the Riesling was especially delicious. Definitely recommend all of these dishes, especially the pan-seared halibut with glazed carrots, hazelnuts and lime! ($30)
Leaf Salad | Cunningham Farms, MD
Spring vegetables, lemon vinaigrette, goat cheese, toasted hazelnuts
Wine: Lucien Crochet, Sancerre, Loire, France 2010
Butter Poached Lobster | Portland, ME
Tuscarora co-op rhubarb, pickled fennel, granola
Wine: Tom Eddy, Mooton Rouge – Rosé, Napa Valley, California 2011
Crispy Pork Belly | Ferguson Family Farms, MD
Poached egg, smoked maple glaze, butter toast powder
Wine: Hermann Wiemer, Late Harvest – Riesling, Finger Lakes, New York 2011
Pan-Seared Halibut | Pacific Coast, WA
Glazed confit carrots, hazelnuts, lime
Wine:  Jacques Puffeney, Chardonnay, Arbois, Jura, France 2009
Lemon Thyme Cake by Executive Pastry Chef Bettina Perry (loved it, Bettina!)
Lemon cream, smoked honey caramel, honey-milk sherbet
Wine: Château Soucherie, Chaume, Coteaux du Layon, Loire, France 2007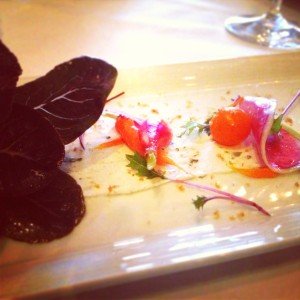 As I've said before, I'm a big fan of chefs who are mindful of the ingredients they use…especially when they are sourced locally. Chef Amendola is all about sustainability and even forages locally for in-season items like morels, ramps, fiddleheads, berries and more. At Cunningham Farms, in addition to tons of vegetables, fruits, herbs, etc, they've just started raising pork – three breeds of hogs. Chef Becker was telling me about them…each breed is very unique both physically and in personality – and joked that the hogs are awfully cute, but he doesn't want to think of them as cute. They are not pets! They also raise chickens at the farm. So, of course, I'm interested in seeing their setup…since I'm a fledgling urban farmer. That sounds funny. Does a small flock of hens in Hampden really equal urban farmer status? It just makes me laugh.
So, it's fair to say that David Smith and his group are doing great things and I'll definitely go to Cunningham's Kitchen in Towson when it opens later this year. In the meantime, I think I'll head back to the bar at Fleet Street Kitchen for a cocktail. The Buttercup is a mighty fine choice. (Thank you, Naderia!)