I'm podiatry-challenged. Is that even a thing? Well, for me it is. Here's the dealio, I have flat feet – really flat. When I played lacrosse in college, I tried orthotics. I stretched and put my feet in an ice bath before and after practice and games. Every single day. I just kind of powered through the pain, but, geez, shin splints are no joke. After college, I just let it go and figured it was my lot in life. Between my shotty knees and flat feet, workouts were kind of a bear.
Fast-forward about a decade and I finally discovered my saving grace, Dansko clogs. I'd see my neighbor who is a nurse wearing them, chefs in restaurants wearing them…and if they spent 16 hour days in theirs, maybe I should try them. I bought my first pair around 2003 and over the years, I've owned about 6 pairs (brown and black because I'm practical like that) and they have served me so well. When I wear them, I feel at ease. Nothing hurts.
The running joke with my friends is that my idea of getting a little dressed up is not wearing clogs. At my house, there's always a pair of Dansko clogs by the back door. Sometimes I'm a little sad in the summer when my clogs just don't go with my outfit.
Last year, a friend of mine sent me a link to Dansko's website and her note said "THEY HAVE CUTE ONES, TOO." I love her. Then, I realized that another friend who works in PR had Dansko as a client. (Boom.) She wrote me and wondered if we might be a good fit to work together. They loved the idea of me writing about my love for their clogs…and about my happiness in finding cuter options, as well. So, here we are.
I now have three pairs that I love – Reggie, Otis and Joanie. All three can be dressy or super casual. (This is so weird, I never thought I'd be giving shoe recs…I'm usually telling people where to go to dinner…) When I wear my Joanies, I feel all girly.  It's fun.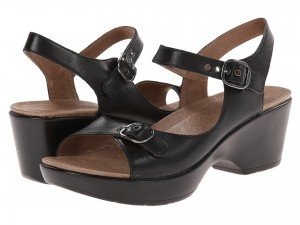 I can't wait to buy a pair for fall…so many choices! (I'm thinking the Maria boots are next…)
Thanks for enlightening me, Dansko. I love you.