If you know me, it's no secret I'm a big fan of Michael Mina's Wit & Wisdom at the Four Seasons Baltimore. The open kitchen, the elegant yet understated dining room, those sweeping views. Also, Chef Zack Mills is one of the most hard-working people I know. He is a Maryland native, dedicated to working with local farmers and producers, supports multiple local charities and is continuously working to make his food more creative, as well as approachable and well, delicious. He is also just a warm, real  nice person. (That matters.)
Every so often, the folks at Wit & Wisdom invite me in to check out new dishes and cocktails and when they do, that's a good day. A few weeks ago, was a very good day – I discovered a new favorite dish (see: Crunchy Chicken Sandwich below) and tasted 11 cocktails. We did not finish any of these 11 cocktails but I kinda wanted to…but then, it was lunchtime and I had to get to my next meeting. Womp, wommmp.
Wit & Wisdom has just launched a new option at lunch: Make Your Own Salad. You can choose up to 10 ingredients for $13, then add a protein if you wish. There were three of us for lunch, so we made a salad sans protein (the orange ale vinaigrette made with Flying Dog Bloodline was so good), a crunchy chicken sandwich (please go just so you can have this, it stopped me in my tracks), a Baltimore Cobb Salad, a meatball parmesan sandwich and sunchoke velouté. It was all demolished. And we made a mess of that meatball parm, but it was so worth it. I also loved the Yuzo – booze-free – cocktail. Refreshing and slighly tart. I think I will add gin next time…kidding. (Okay, maybe not kidding.)
Then, we had cocktails! Bartenders Jonathan Levy and Reed Cahill mixed up every cocktail on the new menu. I did not protest, I politely sipped each one…and my notes from the tasting cracked me up as I sat down to write this.

My takeaways from the cocktail portion of our "meeting?" The After Supper Cocktail is not to be missed. Apricot brandy, Pierre Ferrand Dry Curacao, simple syrup and lemon. (My scribbled notes: "More, please.")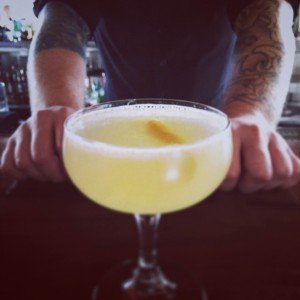 The Hardly Working is the most spirit-forward (um, boozay) and it's made with Hardy VS, Appleton Estate 12 yr, Barolo Chinato, crème de cacao and served with grated dehydrated olive oil and candied fennel blossom. So, yeah, that description reminds you you're in an actual cocktail bar, but it drinks like you're in a corner bar. Easy, boozy, really nice.
The third one I want to recommend is the Crush Breast Cancer and proceeds from this drink go to support Breast Cancer programs at the Kimmel Cancer Center at Johns Hopkins – where one of my best friends, the late, great Gayle Latshaw was treated – so I will order this one over and over. It's Ketel One Citron, Licor 43, agave, lemon, lime, egg white and Peychaud's bitters. Smooth, a little sweet, a little tart, great balance. Highly drinkable. And, yes, I forgot that vodka was delicious.
Get to Wit & Wisdom. Grab lunch with a friend. Take a break. Sit by the fire, sip a cocktail.