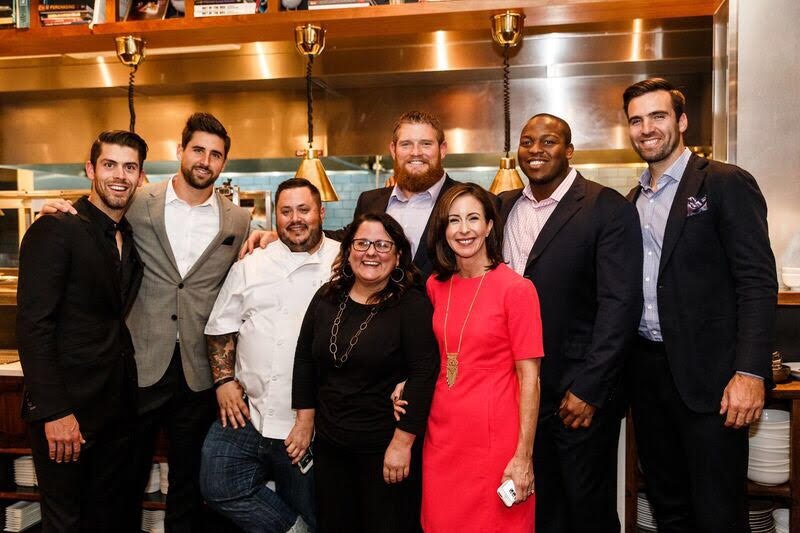 Friends who follow me on social media sometimes think my life seems exciting. They say things like this to me, "You're everywhere! I love following you! Your life is so exciting. I live vicariously through you." Strangers say, "I go to all the restaurants you go to. Can I have your life?" I mean, I get it – it seems cool as you scroll through Instagram. Sometimes I'm invited in for dinners, sometimes I'm seeing places and tasting things before everyone else, sometimes I'm gifted with things, sometimes I meet famous-ish people. But as odd as it might sound, it is work. And, Instagram is not real life.
I quit my job almost three years ago and sometimes I can't even believe I did it. I was bored and I was unhappy for lots of reasons I don't need to go into detail about. Suffice it to say, I needed to make a change, I wanted to do something different, not another "job." I wanted a new life.
The first few months were not as scary as one might think. I was freeeeee. Cue the music. I was happy, and not worried, more like hopeful. I gradually landed client after client, working mainly with local small businesses, many in food and beverage. Contract time frames varied. Some needed a ton of help, others just a month or two or even a couple of hours. I helped some clients improve their food photography skills, did public relations work, event coordination, writing gigs for restaurants, managed social media content and engagement. Social media is my favorite and where I think I shine. It's a lot harder and takes a lot more time than you'd ever think. My new life was fun, I was learning new things everyday, showing folks what I'd learned over the last seven years or so using social media for my own successful brand.
I basically have two worlds, wearing two hats: 1) writer, eater, adventurer and 2) consultant, ghost Instagrammer/Facebooker for clients, one who can look at a business and objectively give advice. I like both hats and they can definitely feed off each other. Hat #2 pays my mortgage and funds all the dinners and drinks. (Hello, business development is not free. I expect no freebies, I am not entitled to anything because of what I do.) Oh, and the health insurance and the chicken feed, etc. When I wear hat #2, I need to be just as "on" as when I'm out and about in #1. Hustling, as they say. Hoping to be noticed enough that someone says, hey, I should hire her. She's good. She is genuine. She hustles. And when that happens and someone sees the potential in hiring me, I love that person!  And now as I get more and more experience, I'm learning I can help sell more than martinis and tartare. It's endless, really.
My approach to social media for Charm City Cook (hat #1) is pretty simple: If I like a place or a dish or a drink or whatever, I want you to know about it. Whether I have a business relationship with that place or not, I will tell you about it. I don't just talk about my clients…but my clients definitely get more attention. I have favorite places and people, yes. We all do. But I do not review or critique. I don't write for the Sun, you know what I mean? I don't really feel it's my place to review. I do not Yelp. (This new app is pretty cool, though.) These days, I am attending fewer comp'd media dinners. Just feels like the right thing for me to do at this point.
Here's the reality check part. The last two months have been brutal. I lost four clients due to timing, budget strains, staff turnover. Last week, I looked at my bank account and cried. I wondered how I was gonna make it work. Do I need to get a job? Like a job-job? Then, I shook it off and as my friend Gayle would have said, I put on my big girl pants and made a plan. I looked to my friends (in real life and on Facebook) and made lists. I like lists – crossing things off your list is the best!
Last week, I looked at my lists and emailed about 15 friends whom I trust and respect and basically said "SOS, got any ideas?" Ten out of the 15 emailed me back with words of encouragement and even better? Real actual leads, one of which I'm pretty sure will become a long-term client. Hallelujah. It's a start. That shows that you should never be afraid to ask for help, ever.
Here's the thing. I know I'm doing all I can to make this work. I know it will work out. This post is not meant to be a "wahhh feel sorry for me" post. It's just reality. If you run your own business (especially if you are a one income household) you understand how hard it can be. Some months are fantastic. Some months are dark. My life may seem fancy pants at times, but the reality is I'm usually working. Next month, I'm heading to New Orleans to visit old friends and eat some of the best food in the world among some of the nicest people in the world. I think a change of scenery (and a sazerac) will help.
Ever hopeful. And, thankful.
May 2018 update:
I took a job in the corporate world…it lasted about four months. It was not for me. I tried! Back to doing my own thing. Still scary, still the right thing for me.