Summer in the City – Harbor East Style
It's no secret to my friends…I am a big fan of the Four Seasons Baltimore. It's a little odd – even to me – that I'd fall in love with such a seemingly fancy pants place. The fact that little old Baltimore (so often poo poo'd by DC and Philly, God bless 'em…) even has a Four Seasons? Pretty awesome. Everyone at the hotel, PABU, Wit & Wisdom and LAMILL Coffee have been so kind to me and my little local blog. They don't discount the power of the word of mouth referral. In a town like Baltimore, that's often how it works here. In a small town like this, it pays to be nice. Someone will actually hear it if you say something less than nice about them. Not kidding even one bit.
The Four Seasons has an amazing view. Well, I should say views. As I sit here and write, enjoying a cocktail and appetizers under an umbrella outside at Wit & Wisdom on a gorgeous day in Charm City (thank you, Justin!), I am taking in views of the Domino Sugar sign, Harborview, Oriole Park at Camden Yard, M&T Bank Stadium, Pier Six and more.
At the new and improved outdoor patio at Wit & Wisdom – a.k.a. Wit on the Water – you can enjoy menu items like Old Bay chips with caramelized onion dip, Chesapeake Bay oysters, lobster corn dogs, fish tacos, burgers, ahi tuna tartare and more. And the cocktails? Yes, I like a nice cocktail. It's true. And my current faves there are The Company (saffron-infused Beefeater gin, honey, lemon and orange bitters), Eastern Shore Shandy (Sloop Betty vodka, Heavy Seas pilsner, incredible housemade Old Bay syrup and lemon) and Negroni Rose (Hendricks gin, lillet and aperol.) To have faves feels a little wrong, since I've had almost every one on the menu and they're all pretty darn good – do not judge me.
Here are a few things I've had at Wit & Wisdom, PABU and LAMILL lately.
Smoked salmon bites
Negroni Rose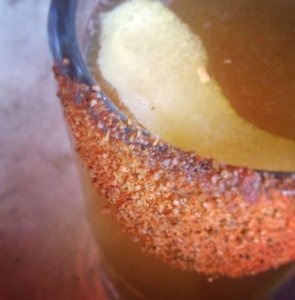 Eastern Shore Shandy
Chef Michael Mina's Ahi Tuna Tartare
Happy Spoons
Balbriggen
Charred octopus "Greek" salad
Macarons
Last week the hotel's beverage manager, Tiffany Soto gave my friends Karen Roth Newell, Brian Lawrence and me a little preview of what they're serving at Splash Pool Bar & Grill on the 4th floor of the hotel. As we walked out from the elevators, the breeze is what I noticed first. It had been incredibly hot and humid that day (ah, our summers…) and it felt incredible, almost immediately relaxing to walk out toward that gorgeous infinity pool. As we headed to the outdoor bar (covered in parts, thanks to lovely umbrellas) it was clear that I was definitely not in Hampden anymore. In other posts about Harbor East restaurants PABU, Wit & Wisdom and Vino Rosina, I noted that this neighborhood is like none other in Baltimore. It's almost like you're not even in Baltimore for a minute.
Back to the pool bar and the deliciousness. Tiffany has created two really great new options for the hot, hot B'more summers: poptails and pitchers. The poptails are boozy popsicles in flavors like Strawberry Sage Sauvignon, Baltimore Orange Crush Dreamsicle, the Harborita (Grand Marnier, Don Julio Blanco, lime juice, agave, and splash of orange juice), Watermelon Rum Punch among many others. On our visit (on a 90+ degree day in Baltimore…) we flipped over the Beaujolais cheesecake poptail. It was perfect and completely refreshing – not heavy at all. The consistency of the cheesecake part was sort of like frozen yogurt, smooth and slightly sweet. For the pitchers, they are creating similar variations including the three drinks we tasted on our visit – the Harborita, Mojito and the "After the 18th" – Belvedere lemon tea, herbal infused lemonade, sweet tea – a delicious twist on an Arnold Palmer. I'm not a huge fan of mojitos, but as I found out thanks to Tiffany, if they are made properly, I could probably drink them all day. (Again, do not judge me.) Also, I must add that they are doing non-boozy popsicles, too. But I'm not really sure why. Oh, yeah…kids and non-drinking adults need to have some fun, too.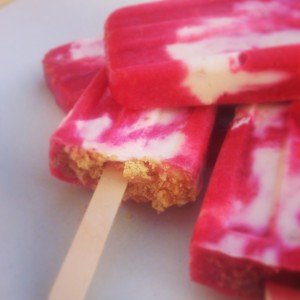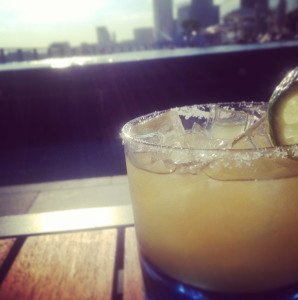 For the pool (like to actually swim and lounge), it's available for hotel guests and spa guests who book a treatment (Monday – Thursday) and members of the fitness center (yearly or seasonal membership).
The pool is open from 11am-6pm daily beginning this Saturday, June 8 through Labor Day for lucky hotel guests. If you haven't splurged for a hotel room, Splash Bar & Grill is open to the public with food service available from 11am-6pm and bar service until 7pm.
So, as the temps go up, up, up….go down Harbor East. Book a stay (treat yourself – I think I might need to do that!) Visit Splash Pool Bar and have a poptail (or four…) and relax. Do happy hour with friends, dinner at Wit & Wisdom or PABU, sit by the pool or have a gorgeous cuppa joe at LAMILL – you must try some of Chris Ford's macarons!
The possibilities are endless…
Check out my Instagram feed for more food & drink around town.