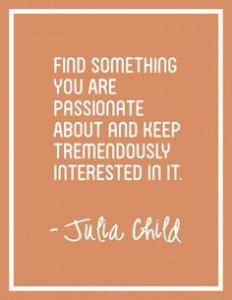 One of my favorite Julia Child quotes: "Find something you are passionate about and keep tremendously interested in it." That's me and cooking. (I also consider tinkering with cocktails to be cooking…) People who are passionate about what they do really excite me. They inspire me. One such person? Ted Allen. And, recently, I had the chance to talk with him about something he is extremely passionate about – the fight against hunger.
When my friend Dorothy wrote me to ask that I write something to promote Dining Out For Life, I immediately said yes. I assumed I'd be writing about one of the participating restaurants, so I looked through the list and spotted several favorites here in Charm City. Here's how it works: Local residents to dine at participating restaurants and eateries who agree to donate at least 25% of their check total to Moveable Feast. Some restaurants even donate 50% – this year, those generous folks include 13.5% Wine Bar, Woodberry Kitchen and Gertrude's.
The event takes place in the Baltimore Metropolitan area on Thursday, September 17 and a complete listing can be found here. Last year, over 50 restaurants participated to raise over $70,000 for Moveable Feast programs and services and this year, the goal is to raise $75,000.
Moveable Feast was founded in 1989 by a group of dedicated volunteers as a tax-exempt nonprofit and is the only meal delivery program for homebound People Living with AIDS and their families in the Greater Baltimore area. Moveable Feast also provides meals to women in treatment for breast cancer, medical transportation services and a culinary training program. They are located in downtown Baltimore City.
So, back to Ted. Dorothy called to say that I might have the chance to interview Ted Allen, host of Chopped (and, my favorite part of Queer Eye for the Straight Guy…) who is a national spokesperson for Dining Out For Life. It's weird, I was excited but not nervous – at all. He's always seemed like a pretty normal, easy going person, so why be nervous? So, a few days later, the interview was to happen via phone and there goes my phone…"Hello?" I say. He says, enthusiastically, "Hey, Amy, it's Ted Allen, how are you? Sorry, I'm late in calling you. I was putting a roast chicken on." Then we talked about how he was amazed at the difference in flavor when you salt the entire chicken, like a'la Zuni Cafe (San Francisco) and we went from there. Wow, he's really so nice. I was immediately on the phone with someone I knew. That's a really great quality to have, putting people at ease.
We had the best conversation, talking about his latest roast chicken experiments, some of his favorite restaurants and more. I have to repeat: What a nice man.
Why Dining Out For Life? What makes you want to be so involved?
TA: Working on behalf of hunger issues is just something we do at Food Network. For example, Mark Murphy gives an enormous amount of time on this issue. One in five kids in this country goes to bed hungry. So many Americans are "food insecure" – meaning that they don't know where their next meal is coming from. For me, it's a great privilege to give my time alongside people who work full-time in this field. It's very inspiring. Dining Out For Life helps so many people. And, it's a win-win. It gets more guests into local restaurants and all of the local money actually stays local – $4 million is raised annually all over the country. It enriches the culinary community and feeds people – no down side there, of course. The heroes, to me, are all of the full-time people working on issues like this. We all can't devote our lives 100% to it, so we all must do what we can.
Some kids get to choose their birthday meal, did you? If so, what did you choose…and what would be your birthday meal now?
TA: When I was a kid, it was usually pizza from Noble Romans (Indiana.) Sausage and pepperoni. Now, I like to be with close friends, many of whom work in food, but not all. I just celebrated a birthday and we had it at the house and Red Hook (super cool Brooklyn butcher shop) catered it. It was fantastic! We had dishes like beef tendon salad and tons more. It was so good. Love being at home for my birthday.
What's the best thing about what you do?
TA: The relationships with such talented people. I was just at the beach with Mark Murphy and Anne Burrell. They are really (real) good friends. Love that.
What are some of your favorite restaurants in the U.S.? Everything – from fancy to not so much.
TA: Well, of the 'fancy' special places, there are a few that I like to go back to every so often, like Le Bernadin. That place is a revelation. I love Pok Pok in Brooklyn. It's some of the most craveable cooking ever. Ever. Also, the Cannibal – it has the most delicious charcuterie, cured meats and beautiful vegetables. I'm also excited about Rich Mellman's (he invented the salad bar in Chicago…) new place, Intro in Chicago. It is kind of amazing – every few months, the restaurant completely changes – new chef, new food, new decor. It's a crazy risky and completely interesting idea. They want guests to come in over and over and over.
What do you like to cook at home?
TA: Like we were talking about, I'm really into experimenting with chicken on the rotisserie lately. The other night, I did chicken on the spit and white bean Panzanella salad with tomatoes from our rooftop. Lots of BLTs lately, too. I think the tomato should be really celebrated in the summer. (Me, too, Ted!)
What are some of the cookbooks you use all the time? Which new ones coming out are you excited about?
TA: Funny you should ask—Food Network Magazine just did a spread on this. The new cookbook I'm most excited is Amanda Freitag's "The Chef Next Door," which comes out later this month. As far as others, the Zuni Cafe Cookbook, by the late Judy Rodgers (and edited by Alex Guarnaschelli's mother, Maria) is definitely one of my favorites. You can see it, and some more here: The Cook's Books: Ted Allen's Cookbook Library.
Are there any food trends that you're over at this point?
TA: I don't really care about trends. They're trends, you know…they're fleeting anyway. I leave up to other people. One thing I do love is that there's great cooking going on everywhere – not just the usuals like NYC, New Orleans, etc. Great food scenes in places like Philly, Nashville – that's pretty cool.
What do you love about food?
TA: I love that it's limitless. It's a ticket to other cultures, it never fails to surprise us, always something new to try. Friends at the table, phones turned off. I also love the act of cooking, pairing with wine, being with friends and family. Nothing better.