snowstorms are awesome. really, really awesome. especially really big ones. watching that ticker go across the bottom of the tv screen, you hope and pray for the simple pleasures of jammies, hot chocolate and popcorn. you sometimes see that looming phrase, "essential staff must report." oh, dude. i'm sorry. that's no fun.
essential staff. while home cooks certainly have varying repertoires, there are many basic tools that everyone uses – they would sorta be like your essential staff. last year, i wrote about my "go-to" kitchen tools and staples and i've decided that i need to update it a bit.
for example, i've changed my mind on the giada pie plate. i like how it looks [super simple, classic white], but i think i will just use it for things like chocolate cream pie and other non-bake desserts and appys – i've served taco dip is mine – don't tell ms. de laurentiis. i learned that the experts at america's test kitchen swear by the good 'ol pyrex glass pie plate and i have to agree…i love mine. things like fruit pies, pot pies, etc, cook much more evenly using one of those. not as glam, but who cares, really…it's about the pie.
also, on the pie subject, the silicon pie crust thing is nice, but i wouldn't classify it as essential. i also have learned that my oven's bottom shelf is the best place to bake pies. they seem to bake evenly and the crust does not burn. however, sometimes i do need to add a little 'lum-nin fool' over the crust. i think my oven is possessed sometimes.
there are many, many other things i use when i cook…too many to list. but, okay…here are a few: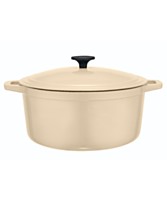 martha stewart dutch oven
iSi flexible ilicon mixing bowls
here are some suggestions from the kitchn for essential kitchen tools. also, in the back of america's test kitchen's complete tv show cookbook 2001-2011, there is an AMAZING shopping guide. cannot recommend this resource enough..
happy cooking, hon!