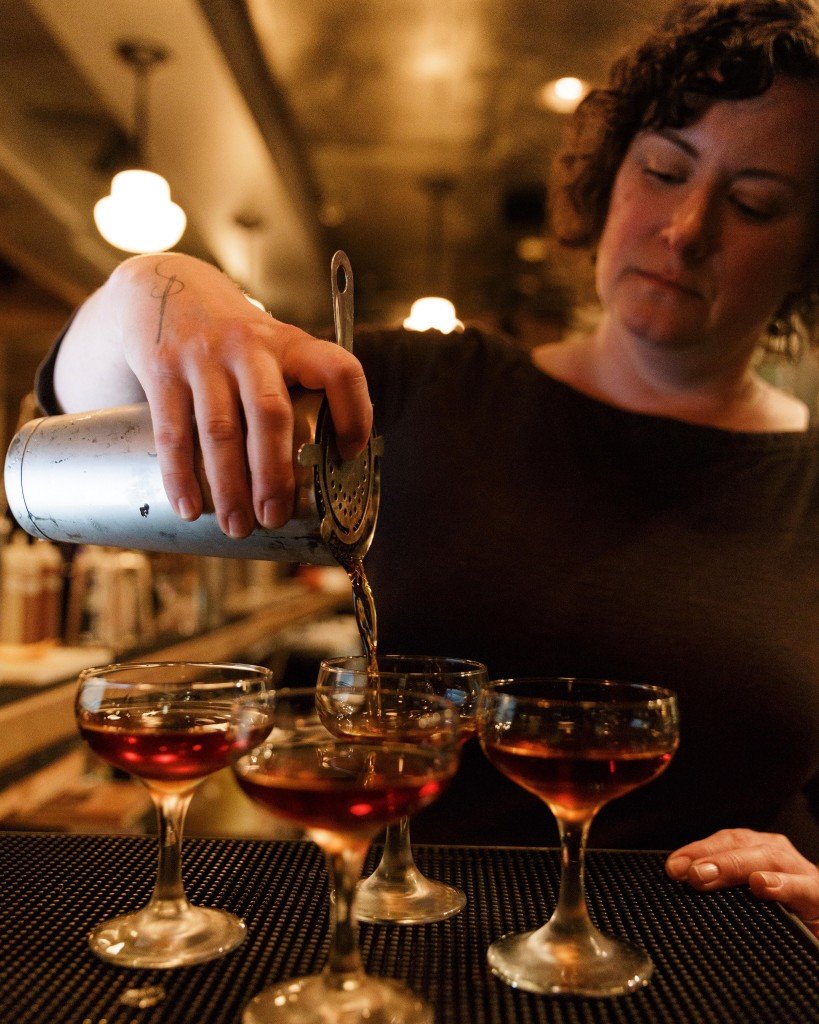 I'd seen Ali Dryer there at Hersh's behind the bar a million times. She's quietly charming and always happy to make me her favorite new cocktail, tell me about a spirit I've never tasted, help me choose a glass of wine or beer to pair with the super seasonal and ever-changing menu at Hersh's, which has long been a favorite place for me. Then, last year, I started consulting with Josh and Stephanie Hershovitz, owners of Hersh's and began to get to know bartender Ali a little better. I wanted to know more and since she's not one to talk about herself very much, I crafted a little interview and here it is.
How did you land at Hersh's?
AD: It was inevitable, really. Josh and I have been friends for somewhere around 15 years, ever since I worked at the Golden West and he was one of my early-morning regulars. Then we worked together at Petit Louis. Steph and I clicked from the minute she moved back to Baltimore from NY. I'd been working in restaurants for 15 years by the time they opened, and the only reason I didn't work for them from the very beginning was that I was 8 months pregnant at the time. Seemed like a terrible time to start a new job.
What's your background in: service/hospitality, food/bev, spirits
AD: Well, my professional career started in 1997 when I got a job at Papermoon Diner. Then I worked the last month of the Cultured Pearl, then Louie's Bookstore Cafe, Golden West Cafe, Petit Louis, Clementine and the Laughing Pint. But it all started with my family's amazing cooking and my mom's southern hospitality: as far as she is concerned, there is always room for one more at the table. We ate together pretty much every night when I was growing up. Mom makes everything from scratch (with maybe an occasional *secret* ingredient) and taught me and my sister how to do the same. I think my greatest asset in the kitchen is that I'm pretty fearless and will try anything. It mostly works out. Back in my twenties, I used to cook huge pots of tomato sauce (based on my dad's formula) and have big groups of friends over to help eat it. I could feed many folks with $20. Petit Louis taught me how to taste and drink wine, my dad taught me about whiskey and I've been graced with friends with adventurous palates. I read a lot about it all and mixing drinks is like cooking so it's come pretty naturally.
What is your favorite thing about what you do?
AD: I like witnessing the evolution of flavor. Starting with a classic and following it down a path to another incarnation. Combining complementary flavors and seeing them raise each other up. I like the projects: the vin d'orange being my favorite. All of the pickling and fermenting that's so popular these days started as a way to use up/store the extra stuff at harvest time. Or a way to preserve the special stuff. My family has lots of seasonal food and drink traditions and I seem to have fallen into some of those patterns at work. Sometimes Steph gives me an assignment to come up with something to use a specific spirit. That's a fun (and sometimes frustrating) challenge. Behind all of it, I like making folks comfortable and happy with food and drink.
What spirits are you into lately?
AD: I'm digging on the Capitoline vermouths, especially the dry one. It is way more savory and bitter than any of the others I've worked with which makes it an interesting mixer. I also like that Grand Poppy amaro out of LA. Gin and rye will always have a special place at my bar.
Fave drink/snack combo to enjoy at the bar at Hersh's?
AD: Oh, man. Give me a tomato crostini and a glass of sauvignon blanc this time of year and I'm in heaven. But I'd never turn down a kale and pistachio pie and a glass of sparkling rose.
Do you have a favorite Hersh's pie?
AD: (Josh? Are you listening?) We had a pie called the Finnochiona (I think?) that I LOVED. It had a base of fennel that had been braised/melted in chicken stock, then maybe fresh mozzarella, and our fennel sausage. It was finished with fennel pollen out of the oven. So delicious.
What's your go to classic cocktail?
AD: I will never turn down a Manhattan or a Martinez.