It might suprise people to learn that Baltimore now has a has a handful of luxury hotels. BALTIMORE. Recently, I was lucky enough to stay in the city's newest one – The Sagamore Pendry. Hashtag fancy pants. Time to pack.
So, how did the Sagamore Pendry Baltimore become the Sagamore Pendry Baltimore? Well, let's go back a few years. Under Armour's Kevin Plank first eyed the property as a possible development for his company. Then, while out in Utah at Montage Hotels' Deer Valley property, he met Alan Fuerstman, founder of Montage International and the two began chatting about development and repurposing the old Recreation Pier in Fell's Point into a hotel.
I specifically remember a few years ago, walking out onto the pier at Broadway and Thames with my two best friends. Looking back from the end of the pier, we all commented about how great the old building was. It was so Baltimore, you know? Beautiful bones, a little rough around the edges. It had served as a set for David Simon's television show, Homicide: Life on the Street, also known as one of my top three all-time favorite shows, alongside The West Wing and Sex & the City. I met Kyle Secor on the street in Baltimore once and I completely nerded out. Wow, such a crush…okay, I digress. The building had deteriorated after sitting unused for so long, it was just sad. When news broke of the plans to repurpose the building into a luxury hotel, there were a lot of opinions around the city. Honestly, anything even remotely connected to Kevin Plank tends to elicit lots of opinions. I was, as I always am, hopeful.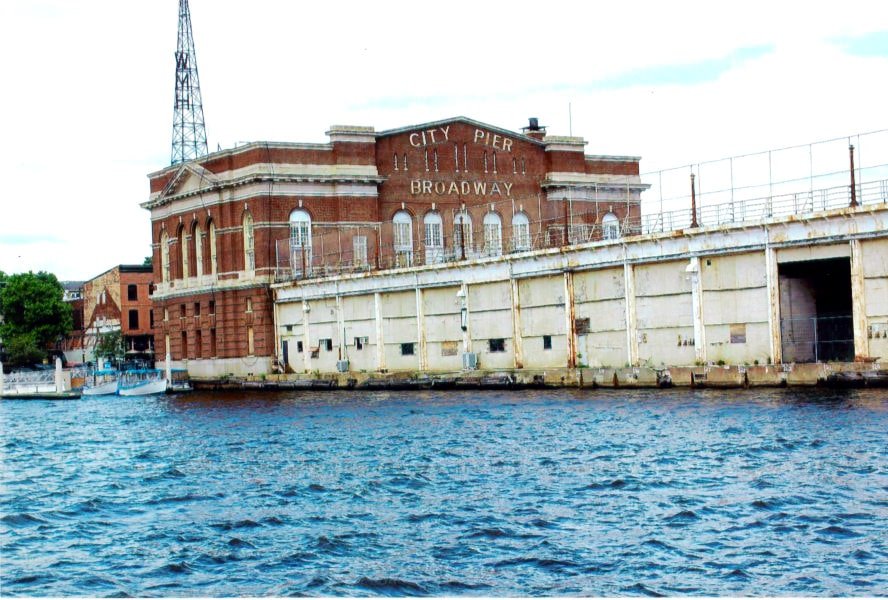 Photo cred: CiniLittle
To me, when you drive or walk up to the hotel's entrance, it feels like it fits in Fell's Point. Even though it's a luxury hotel on the inside, the traditional brick exterior feels right – sitting tall and proud across from Fell's Point institutions like The Cat's Eye and The Daily Grind. As you enter the hotel, you see intriguing artwork all around you. Once up the long hallway, you go left to check in, right to dine or head to the pool. It was fun to go left…yes, sir, thank you, I am checking in. Be cool, Ame. Be cool. (I am incapable of this.)

As I enter the third floor Presidential Suite overlooking the pool and sweeping view of my city, I am giddy. And, thankful. I'm on staycation! I pitched this story thinking…oh maybe, maybe they'll give me a room. Maybe it'll have a partial water view. Maybe I'll get to go to dinner. Well, the suite and this entire experience were way more than I ever imagined. Thank you, Jon and Kaitlyn. Too kind. Local interior designer Patrick Sutton created all of the gorgeous interiors of the hotel and this suite is warm, inviting and makes you want to stay a while. And take a bath.
I was greeted in my suite by the most amazing amenity, a custom designed dessert by pastry chef, Monica and her team. I've known Monica for a few years now, and she knows that I keep chickens in my backyard…so the dessert was perfect, and the note she sent was sweet, too.


My first activity of the day was a tour and tasting at Sagamore Spirit, just across the water in Port Covington. Two friends met me in the lobby and the hotel's house car whisked us over to South Baltimore, where we were greeted by sunshine and more gorgeous water views. We took a tour of the distillery and tasted some whiskey with a great guide, Emily. Then, we walked across the way to take a quick peek into the brand new Rye Street Tavern, which is run by Chef Andrew Carmellini and NOHO Hospitality Group, who also run Rec Pier Chop House at the Pendry. I had enjoyed dinner at Rye Street Tavern with some friends a few days earlier and I was very impressed, especially given that I was there on the first night they were open to the public. From food to service, I loved it. Not one dish was off. Wine and cocktails were fantastic. The vibe and feel of the place is very warm and inviting, again…a Patrick Sutton designed project. Classic. The bar is really beautiful – obviously whiskey-focused, since this is a Sagamore project – with warm honey tones, rich wood, copper accents, tons of light. I definitely will be back to sit at that gorgeous bar and visit my talented friend Dan Lease, who is running the beverage program there.


After the whiskey tour, we headed back to Fell's Point. It was a busy Saturday in the city, so the harbor was crowded as we drove across Pratt Street. My friends and I sat at the bar and had a quick drink, did some people watching and caught up and then it was time for me to head upstairs and get ready for the night.


I had about an hour to either nap or take a bath, I chose the latter. I mean, that tub. It is too big and ridiculous – and it had jets! After getting ready, I took a minute to walk out to the patio, which wrapped the entire suite (this is THE place for a party!) and saw a wedding set up by the pool. And it wasn't just any wedding, it was a Stephanie Bradshaw wedding. She's very talented and throws a lot of fabulous parties at the Pendry. Before I knew it, it was time to head down to pre-dinner cocktails.

I met my friends in the bar at Rec Pier Chop House and even though I'd been to the restaurant many times, I still had to take it in. This place, on its grand scale, huge front windows, exposed brick, perfect lighting. It is stunning. A few of my friends could only make it for drinks, so we did about an hour of hanging at a big table in the bar, then they departed and five of us moved to a table for dinner. We were in a big round booth smack in the middle of the dining room. We ordered everything from steak tartare and tuna crudo to a tableside Caesar to Linguine Fini and whole swordfish with broccoli rabe to Porterhouse for two. That tartare was the best I'd had in a really long time, kobe steak with hazelnuts and truffles. Nice job on everything, Chef John! We shared everything and enjoyed some amazing wines, too. The sommelier April and our server Megan took excellent care of us. Nothing was forgotten and the dishes came out at a perfect pace. The dining room was absolutely buzzing. Then came dessert. I tend to go less rich for dessert, and we were all happily full, so I was glad to hear about the sorbets and we ordered the three flavors for the table. Then Monica rolls up to the table with about three more desserts (including their amazing housemade gelato) and we were not unhappy about it. With this crew at Rec Pier Chop House, I was not surprised. They do it up. Even though the Noce Sundae – brown butter, maple and toasted nut gelato, toffee butter crunch, hazelnut biscotti, frosted pecans and praline sauce – was pretty amazing and the peach almond semifreddo was stunning, the mango basil sorbetto was still my favorite thing. It was simple and flavorful. Perfect.



I thought, how fun to be having dinner at an Andrew Carmellini restaurant, but in Baltimore – not NYC. I am a total food nerd, so I was fully aware of AC, as he is called (I've now met him a handful of times and will probably stick with calling him Andrew or Chef, thank you very much.) I'd been to Lafayette in NYC and loved it and had read about him over the years. A while back, I had heard a rumor that he was going to be the chef on the Sagamore culinary projects and then weeks later, I was walking down Thames Street and thought that guy who'd just passed me looked an awful lot like Andrew Carmellini. And then, Ohhhhh, okay. Got it. The rumors are true. This incredibly talented and accomplished (and later I'd find, kind and approachable) chef is coming to my city. He is a two-time James Beard winner, was named a Food & Wine Best New Chef and worked under Daniel Boulud for many years – and the accomplishments go on. Of course, he is not cooking daily at Rec Pier Chop House or Rye Street Tavern, but he and his partners created the menus, handpicked the staff, worked on the look and layout. It's his place, but since he has many, many other restaurants to run, he entrusts the daily operations to his Baltimore team. I'm just so glad he decided to take a chance on Baltimore. We are such a great city. So proud of my hometown.


Okay….back to the staycation. I wish we'd had time after dinner to stop by the Cannon Room (just off the gorgeous courtyard) for a cocktail, but my guests had to get back to husbands and children and responsibilities (ah, being a grown up…) so we took a quick walk up to my suite just so they could see it. On the way, we ran into that wedding I'd seen earlier. Wow, the grand ballroom is just gorgeous. We were just tipsy enough to plot the theft of the biggest fiddlehead plant I had ever seen…then, we figured that would not work. Where would we stash it, could it fit in an Uber, wouldn't I just kill it? So, we walked down the long hallway to the suite, overlooking the courtyard and the Botero horse sculpture (quite possibly the most Instagrammed horse ever) and the iconic Baltimore City Pier sign, which I really, really love. As my friends walked through the suite, it was so much fun to see their reactions. "Wait, this is your patio? All yours? What?!" Many Instagram and Snapchat videos were shot. Someone jumped on the bed a'la Julia Roberts in Pretty Woman, someone pretended to use the bidet and we all marveled at its automatic seat and the heated bathroom floor, massive shower and tub. Surprisingly, no one rummaged through the mini-bar. We all stood on the patio and watched someone having fun in the pool – singing, floating fully clothed, until hotel security politely asked her to come out of the pool. She agreed. We figured, yeah, this is the time to call it a night. I climbed into the ginormous bed with THE MOST PERFECT pillows and thought, how did I get so lucky? These friends, this experience, this city. Sweet dreams.


When I woke the next morning, I had no idea what time it was. Usually the light tells you that. But the bedroom had the most amazing black out shades. I got up, looked into the living room and was shocked that it was actually light out. It was only about 7:15am, but in my bedroom it felt like 3:00am. You guys need to market that a lot, Pendry!



It was time for some breakfast…and the in-room dining menu was pretty big. I ordered a little bit of everything. I wanted to get the ricotta pancakes (they are a fave) but I felt a little weird overdoing it since it was on the hotel's dime. I know, dumb, right? So, I got eggs with toast, potatoes and bacon, fresh fruit and grapefruit. Okay, yeah…that was a lot of food, but I ate almost all of it. Coffee was essential – as it is to me everyday – and I got a huge pot and sat out on the patio overlooking the pool and harbor and enjoyed the feast. Since this was a weekend of luxury, I actually went back to bed, which I never do. What a treat to just relax and not think about work or responsibilities, bills or anything even remotely resembling reality. Soon, it would be time to meet up with more friends for crabs. Gotta rest up, I thought.


About mid-afternoon, I headed over to Captain James Landing on the north edge of Fell's Point, almost Canton. It's a nice walk from the hotel. My friends and I decided on sharing a dozen steamed crabs among the three of us, plus sides like corn on the cob, fries and hush puppies. Crabs are so good in the fall, nice and fat and flavorful. We got some watermelon crushes, too, which were really tasty. Our server Chrissy even gifted us some funnel cake fries topped with powdered sugar, whipped cream and drizzle of syrup – holy moly, they were good. On a nice day, that crab deck is a real treat. This was a particularly warm Sunday, so once we finished we headed back to the hotel. I popped into the bar at Captain James on the way out to check on the Ravens score…they won! I told my friends they had to come over and see the suite, so we all hopped in their car and drove back to the hotel. Again, the patio was the star of the show. It really is a glorious view, then you come back in and feel like you're in someone's (really, really nice) living room. But alas, it was time for another nap before I had another friend coming for drinks and snacks by the pool. This schedule was rough!

The lobby was the meeting place for my next friend to join me for cocktails on my last night. We walked through the courtyard back to the pool and the hotel had reserved a cabana for us, which was so nice. We ordered drinks and shared crudités, watermelon and guac and chips and watched all the pretty people. There were some Sunday Funday revelers there, but in general the vibe was pretty chill. I liked it a lot. We finished up our second round of cocktails and headed up to the suite so she could check it out and we watched the first hour or so of the Emmys from the oh-so-comfy sofa. It was beginning to set in that my adventure was almost over. No, no, no, no, no, no, no. I wanted to sleep in that bed forever.

The next morning, in true 'me' fashion, I was pretty ready to go home to Hampden. As I packed up my things, I thought about taking a pillow. Then I figured it probably cost a lot and well, the whole residual Catholic guilt thing would set in. I left my suitcase at the desk and walked over to Pitango for a quick coffee and pastry, met the cutest dog and then took one last long look at one of my favorite neighborhoods in the city. I am often asked "Where do I take my out-of-town guests?" I always answer, "Fell's Point." It's just the right balance of dining and nightlife, Baltimore history and grit. Lots of charm.

I highly recommend a staycation at the Pendry. Book a room with a view. Have drinks in the Cannon Room and dinner at Rec Pier Chop House. And while you're in Fell's Point, make sure you head to my favorite shop in the neighborhood, Su Casa, for gifts and home stuff. Plus you have to get gelato at Pitango on the Square, oysters, lobster rolls and beers at Thames Street Oyster House, listen to some music at Bertha's and Cat's Eye, record shopping at Sound Garden, shopping at Poppy & Stella, tacos and queso at Papi's. Walk to the Fell's Point Farmers Market (May-November.) All are within a very quick walk from the Pendry. To see more things to do in Fell's Point, follow @fellspointdistrict on Instagram. It's a great look at this charming little hood.

Thank you, Pendry – my staycation was glorious.