So, maybe you've been to camp. Sleep away camp, sports camp or science camp, perhaps. When I was a kid, I went to a bunch of lacrosse and field hockey camps…we ran from morning to night. This other kind of camp sounds much better: BEER CAMP. Not many people have been to beer camp – but my friend Jed Jenny went – and at Sierra Nevada Brewing Company, no less. Jed is the beer buyer at The Wine Source in Hampden, perhaps the best liquor store in the City. It was at the Wine Source that I first discovered the happiness in a bottle that is Bulleit bourbon (even met Tom Bulleit at a tasting there – what a true Southern gentleman he is!) After that crazy second storm of Snowmageddon/Snowpocalypse, my neighbor and I walked up to The Wine Source and one of the nice people there recommended the bottle of Bulleit. Good choice…and now, I'm hooked. Here are a few memories of Snowmageddon in the Hampdens.

Happy city dog – off leash for days thanks to the snow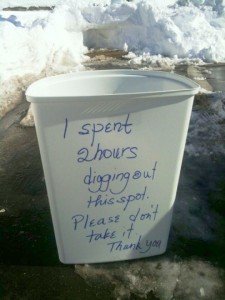 Hampden, my Hampden

Fraziers…open, of course!
If you've ever been to The Wine Source, you've seen the wall of beer…and Jed has turned me on to many, many beers over the years. And like so many folks at The Wine Source, he started out as a stock person years ago and has worked his way up. That's awesome. I've written about The Wine Source before – and what I said three years ago is still true today – they have an amazing staff who know you, remember what you tried last time and are incredibly helpful and really, really know their stuff. Adam and Caitlin, the cheesemongers there, are also pretty awesome. They got me hooked on Neal's Yard Cheddar…so good.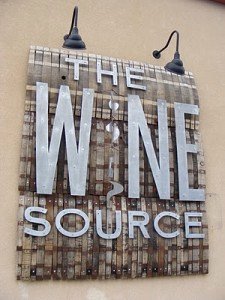 Jed and his colleagues at the store have strong relationships with many, many producers around the country – and are a huge proponent for the local craft brewing scene here in Baltimore. So, when Sierra Nevada's distributor invited Jed to participate in their semi-annual beer camp program, of course he accepted. For someone like Jed who is so passionate about beer, heading out on this adventure would be kind of like me going to cooking camp at Stone Barns or something. You know, bet of the best. Artisans, innovators, visionaries…
This particular session of beer camp took place in August 2012 at the brewery in Chico, CA. This camp experience was mostly for industry folks – beer buyers, restaurant and bar owners, etc. However, they also have a contest where regular people (they'd be me and you…) can enter to win a camp experience. Jed was among 12 campers from all over the country and camp ran from Wednesday through Friday and it was packed with activities day and night. Lots of learning…lots of fun.
The first day, they toured the entire brewery site, including Sierra Nevada's pilot brewery system. This is where they make test batches, about 20 barrels in total. This area is about the size of our (fabulous) local brewery, Union Craft Brewing's brew house. That part was especially interesting to Jed and the other campers – seeing where the brewmasters are actually creating new brews (and seeing which ones just don't work.)

Campers pedal all around the brewery (beers on the cart, too…)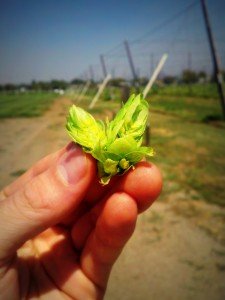 Hops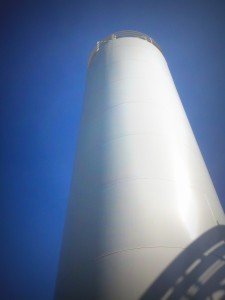 Outdoor fermentation tank
As part of the whole camp experience, the campers decide upon a beer to create and they brew it while they're there – with plenty of oversight by the Sierra Nevada brewmaster Scott Jennings. Then, after camp ends, Sierra Nevada sends three kegs of the beer to each camper. Now, that is cool, huh? Getting to the actual decision? Not so easy. It kind of reminds me of the Quaker philosophy of consensus – everyone must agree. Campers had very serious ideas and wants – some crazier ideas (like, jalapeño beer, for example) were ruled out pretty quickly. Pumpernickel porter became a possibility and then that sort of morphed into a scotch ale brewed with caraway seeds and molasses. Agreed. Moving on now to brewing.
The brewmaster came up with the actual recipe and brewing style. They used a very, very old school way of brewing of heating river stones and tossing them into the brew over and over and over. This way, when the stones are exposed to the heat, the sugars in the beer caramelize – giving it both sweetness and smokiness. Jed said the reason they ended up making a scotch ale was because they wanted something that was slightly lighter than a porter, but still had great complex flavors. He was a bit hesitant to do a beer using spices, afraid it might be a bit overwhelming, but the end result was a nice, balanced, ever so slightly sweet beer. He was also amazed at the huge amount of caraway seeds used, but again…you gotta trust the brewmasters and their guidance. They've been brewing beer at Sierra Nevada for over 30 years. They've got it. When they actually brewed the beer, the campers got to do the fun stuff like heating the river stones and adding hops. But really much of the mechanical brewing work is done by a computer system. They do a first taste (it's usually sweeter at that point) and then the actual fermentation process takes about 10-14 days. Then the kegs were delivered after that. That is the REALLY exciting part!
Here are a few photos from the actual camp brewing process:

Lowering the heated stones into the beer in the kettle

The actual brewery site (or maybe you'd call it a campus or grounds…but that sounds too fancy pants) was absolutely huge. Like a small city. And they are extremely thoughtful and innovative. From the early days, they've been super eco-conscious. The entire place is covered in thousands of solar panels, they compost everything they use (like hops, etc), they capture and reuse Co2 and there is also a water treatment system on site. They've clearly invested a ton of money into being smarter and more eco-friendly. And freshness is hugely important to them. Also, all of the vehicles used at the brewery run on clean energy, like biodiesel or fuel cells. All of this was really enlightening to me – so impressive for a large operation like Sierra Nevada to work this way. It makes me want to buy their beer – and, now! And, a few times a year, Sierra Nevada puts out a Beer Camp Sampler 12-pack, which features four faves from the past year of beer camps that are re-brewed and packaged. Keep your eyes peeled for that. Very limited quantities.

Solar panels as far as the eye can see
Jed also said, "the canning and bottling part of the operation is like a little city. Bottles whizzing by your head so fast. It was unbelievable." '
One highlight of the experience was a field trip to a monastery near the brewery – the Abbey of New Clairvaux. It's an old villa that was built by a Spanish millionaire in the 12th Century. The house was moved over to California from Spain (piece by piece) by William Randolph Hearst in 1933…and sadly, the project eventually was stopped. There is a detailed timeline on the Abbey's website (it's very interesting, read it!) Trappist monks now live there and they make some amazing wines. I bought some of the villa-inspired beer at The Wine Source – cannot wait to share with the other beer advisor in my life, my friend Chip.

Beer Street Journal photo
Also, Jed said that the meals they had at the restaurant on-site at the brewery were incredible – the freshest ingredients, grown very nearby the brewery in Chico and all of their beers are on tap. The cattle nearby are naturally raised and kept, and Cal State Chico has an extensive butchery program. Also, the cattle are actually fed by the spent grain that the brewery sends over to the farm. Love that. Nothing is wasted. Check out Chico's online Farm Store!
Up next for Sierra Nevada, a similar operation just outside Asheville, NC. The entire site is being created along a river, and guests will stay in cabins, kayak and more. They're also creating a beer garden on-site, too. So it's like beer tourism mixed with real life. Sounds way cool to me…don't you think? Beer tourism. Yep. It's a huge industry and it's delicious! I'm getting myself to Asheville next year for sure. Check out their progress!
Go to The Wine Source and ask for Jed. He'll gladly help you choose the perfect beer. Maybe he'll even tell you some camp stories.
p.s. The best part for me, the writer? Enjoying Jed's Scotch ale. It was not a beer I'd ever really choose, but I loved every single sip. Thanks, Jed!