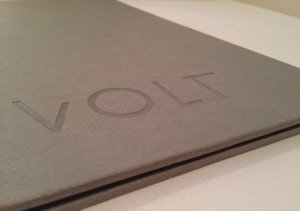 Dinner at Volt. I had thought about it. Dreamed, real, since watching Bryan Voltaggio compete on Top Chef, which is probably my favorite show. He always just seemed like a nice person – and also a fair, yet fierce competitor, specially with his brother Michael. It was fun to watch…and the food he put out always looked and sounded delicious, inventive and, often, like nothing I had ever seen.
So, when my friend invited me for dinner at Volt, I jumped at the chance. We planned it a few weeks out…and I looked forward to it so much. I hoped Bryan would be there and if not, I'd hoped to meet his Chef de Cuisine Graeme Ritchie, someone I also had liked watching on Top Chef – Battle of the Sous Chefs. They both just seemed like people I would like.
I have a rule (thanks to my friend Eleanor) about menus. I almost never look at them before I go to a new place – I want to be surprised. Every once in a while I cheat if I have no idea what the restaurant is all about…but that is rare.
Truth be told, I knew we'd get some special treatment. The friend who invited me worked for Bryan at the time. It was so nice of her to share this experience with me. I was so stoked. When we arrived, we had a little tour of the garden (I want to have an event there, so lovely!) and the restaurant. When they sat us in the kitchen, I nearly screamed. I am SUCH A NERD. It was pretty cool and I've had some pretty interesting restaurant experiences through this blog. Nice to know I'm not jaded…


There were three of us at dinner and we each ordered three different plates and shared all of it. I love eating that way. We also each started with a cocktail and got to taste each other's drinks, too. The menu included local craft beers, wine and cocktails with housemade, locally sourced ingredients. I had a Stillwater Cellar Door with my dinner. That is one of my most favorite beers ever. (Brian – you are the best!)
The food was as delicious as it was visually stunning. And the service? Seamless – you knew immediately that you were in capable, very professional hands. One thing that I really loved? As they brought each course to the table, they placed the dish in front of all three of us at once – in totally quiet, flawless unison. It was so cool that I giggled. Out loud.
Celeriac macaron topped with Whitmore Farm egg and Oestra caviar


Stillwater Cellar Door and a kitchen view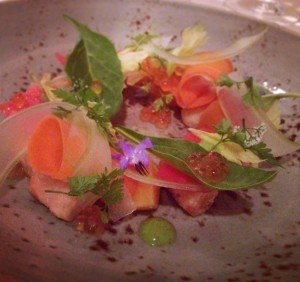 Naturally fermented root vegetables, smoked steelhead trout roe, green goddess
English Pea – jonah crab, goat's milk, wakama vinaigrette
Yellowfin tuna, castlevertrano olive, pistachio, mandarin
Beef short rib, salsify over embers, malt, charred leeks
Black cod, hickory smoke, Belgian endive, parsley root
Braised pork cheek, Brussels sprouts, sweet potato, pearl onion
As we enjoyed dessert, Bryan and Graeme came over to say hi. What nice, nice guys. We talked about the Baltimore food scene, as well as local restaurants and food, beer wine producers we liked. Of course, we discussed his first Baltimore restaurant, Aggio, which opens this Saturday, June 28. You could tell that he was excited to finally expand into Charm City. And even though Aggio will be close to Power Plant Live (it's just not my scene…but I love Joe Squared Pizza and Rams Head Live!) I am very much looking forward to trying it. Bryan is happy to be bringing fine dining to that area of the City. It will be interesting to see how things go there. I am hopeful – Byran's food is that good.
Until my recent dinner at Volt, I had never been to Frederick for dinner. It just seemed too far…and required a bit of planning about who's driving, when to head up to miss traffic, etc. But it's really not THAT far…it took us about 45 minutes each way. One of us driving had to limit the cocktails, but that's no big deal. Safety first!
After dinner, we stopped by Family Meal to see the space (and as luck would have it, an inning of the Os game) and Bryan came by there, too. He is everywhere!