Chef Brigitte Bledsoe of Miss Shirley's Cafe was supposed to be in school.
But, no. She was busy working at Ocean Pride in Lutherville. And that's where it all started. Born and raised in Towson, Bledsoe attended Dulaney High School and Essex Community College (now known as CCBC) and then, she got bitten by the chef bug.
Chef Bledsoe cut her teeth as a line cook — learning to make traditional Baltimore fare like crab soup and cod fish cakes — at Chesapeake Gourmet, then Sutton Place Gourmet. When she was 22, she was promoted to sous chef and she began to gain deeper knowledge and understanding of ingredients and eventually she moved onto Backstage Catering where she cooked for the likes of Barbra Streisand, Bill Clinton and the Grateful Dead. Really, she did! And, yes, those rider stories about celebrities are often true – bourbon, stage left for Frank Sinatra and no red peppers (ever!) for Barbra. She learned so much during this time, cooking everything from Thai dinners to vegan feasts to pig roasts. This was also when she realized that she had natural talent. Self-taught, she thrived in this 'thinking on your feet' environment, but then working sometimes 24 hour straight, tons of travel…she got burned out. She rented a house in Fell's Point. Roots felt like what she needed.
Once she was settled into downtown life, she cooked at Tomcat Alley in Fell's Point. "Later, I worked at Charleston in Harbor East and even though I had been an executive chef, I knew I'd learn a ton from Chef Wolf. Tony (Foreman) and Cindy and their staff used to come into Tomcat for late night snacks." Later, she got poached by John at Louisiana. "He didn't really want a woman chef, but I proved myself." (Smiles.) Then, she needed a change of scenery and moved to Laguna Beach to live with her Dad and two months later, came back to Baltimore and cooked at Louisiana again. After that, she was at City Crab (now Tark's) in Greenspring Station for four years. Then, she was definitely burned out again. The chef life is not easy.
In 2005, she had foot surgery and had some unexpected downtime. She looked in the City Paper for jobs and saw an ad for "the world's best breakfast chef." The ad had been placed by the late (great) Eddie Dopkin of Classic Catering People, who was about to open Miss Shirley's on Cold Spring Lane in Roland Park. She was looking for an easier life, a day job of sorts. She still wanted to cook and be creative but didn't want the crazy hours. She applied for the job and Eddie came to her house – where Brigitte did a tasting for him – on crutches. He loved it and hired her that day. That was ten years ago. "Our partnership just worked. It really worked."
Her home kitchen became her test kitchen for menu development since Miss Shirley's was still under construction. She crafted the recipes out of her house, she chose the plates, etc – all in tandem with Eddie. When they opened, there was a line around the block. Brigitte did the prep, worked the line and cleaned – from 4:00am until 5:00pm most days. Miss Shirley's was a huge success. Then two years in, they moved across Cold Spring Lane to a much bigger space – and now, it is still packed. At that time, Eddie's son David Dopkin came on board to help Brigitte get organized. "He turned us into a company. We so needed that. I had been trained by pretty hard core chefs. David taught me to work a little differently." When I asked her about her team, she said, "Well, we like to promote from within. A perfect example is Ubences Najera, Executive Chef at our Annapolis location. He started as a utility worker at Ravens Training Camp and moved to cook to sous to executive. That's pretty great."
Her style in the kitchen? "I'm the calm in the storm, not the storm." Also, they are still a local family-owned restaurant. "It's just that we have three locations now (Roland Park, Harbor and Annapolis), that's the difference. We always support other local businesses like Rosendorff's Bakery, Rise Up Coffee (Easton, MD) and tons more. I love what we're doing."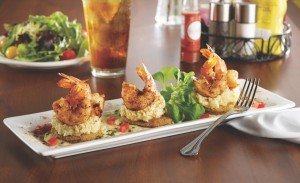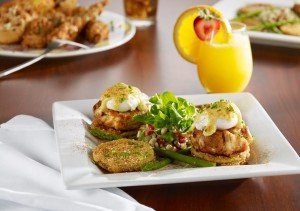 Was food a big part of your upbringing? Did you cook when you were a kid?
BB: Yes, my mom is a fantastic cook. At a young age, I dove into her cookbooks and picked recipes to make. I even baked some. But now, I really hate baking. When I was in high school, I worked at Ocean Pride and became fascinated with the food scene. I loved watching the cooks on the line – I became enthralled with food. As a kid, I was a really picky eater. I hated mushrooms so much, but I love them now. To this day, I can't have mayo on my bread. Nope. No. (Laughs…)
Lots of kids get to choose the meal on their birthday…anything they want (to a point, I suppose…) What would be your 'birthday meal' now? What did you ask for when you were a kid?
BB: Crabs! And rainbow cake from Graul's. Always. This year, my birthday coincided with the 10 year anniversary party for Miss Shirley's. We didn't have rainbow cake when we got home and I pitched a fit. Little did I know, the next night we were having crabs and rainbow cake.
Do you have a mentor? Any chefs who really helped you find your way?
BB: Eddie Dopkin, obviously. I learned so much about running a restaurant from him. He was also very creative in the back of the house. We were just in sync. And, Cindy Wolf. She's still one of my favorite chefs. The fact that she has been so successful is definitely inspiring to me and other female chefs for sure.
What food trend can you absolutely not stand?
BB: Kale. When Panera has it, it's officially over. I'm into power greens for sure, but kale is overdone to me. Also, wraps. When our management team meets, everyone has to submit new menu ideas. Someone always suggests a wrap and I just can't do it. (I agree, chef!)
How do you balance home and work? I guess days off are big.
BB: Well, I've had two surgeries this year, so it's been a little different than usual. I usually try to have Monday and Tuesday off, but even when I do that, I work from home doing scheduling, orders, paperwork, etc. I'm pretty much on call 24/7. I do work a lot, but I try to be at home most nights. It's nice working at a place that doesn't serve dinner.
Do you have time to watch any food tv?
BB: Not too much, but I do watch Top Chef. That's one that I really find to be interesting and fun.
What do you love about Baltimore?
BB: The sense of community here. I love the Smalltimore thing. If you were born and raised here, you are constantly running into people you know. I love that. Sitting at a bar, the person sitting next to you always knows someone you know. I also love the neighborhoods – every place from Hampden to Fell's Point and up to Towson where I live now, I love it. Baltimore is a great place. People are friendly here – they look you in the eye and say hello.
What do you like about food? How about the food at your place?
BB: Breakfast and lunch are great. And doing only those two definitely makes you stretch and be more creative. I love doing savory and sweet together. Like, we do a pancake of the month and recently, it was pulled pork, smoked bacon, cheddar, BBQ sauce, fried pickles, jalapeño pepper dew butter. It was so good! Food just makes people happy.
Best food memory?
BB: My mom and I took a trip once and we were in Paris and Burgundy for two weeks – we attended a cooking school in a chateau – La Varenne. We cooked, of course, but also traveled all over France and visited Michelin restaurants, vineyards and it was the trip of a lifetime for sure. It was amazing.
What are some of your favorite restaurants in the City?
BB: Okay, here's my top three: Charleston. Yes, it's expensive but I'm totally drawn to it. I'd honestly rather go there every once in a while and skip other meals out for a while. Then, I'd say Thames Street Oyster House. Love it. And, Hamilton Tavern is my 'go to' burger place. Oh, well – I need to add one more. I love going to Wit & Wisdom and sitting out on the patio, listening to the music at Pier Six. That's a really great place.
Okay…obligatory…when you cook at home, what do you like to make? Do you have a favorite 'go to' meal at home?
BB: No matter the weather, I'm cooking out on my grill. Snow, rain, whatever – I'm grilling meat, fish, vegetables, everything! There's almost always something marinating my fridge. Recently, I made flank steak in Bloody Mary mix with Old Bay vodka. (Oh, I wanna make that, Chef!)