I use the phrase "one of my favorites" a lot. I don't like to single anyone out…for fear of hurt feelings (maybe it's the youngest of six and only girl thing?) I don't like ruffled feathers. I like happy. I guess I'm okay with being the diplomat. I like peace…my inner Quaker.
The "favorite" thing in reference to restaurants is an especially hard one. I started writing this blog about three years ago (here is my first post) and I've had some seriously great food and drinks…prepared and served by AMAZINGLY talented people. So, til now…I've been super polite. But I gotta fess up. I have an actual favorite – it's PABU. There, I said it.
When I visited PABU for the first time last summer, I didn't know what to expect. I wondered, what is an izakaya? Do they just have sushi? Um, sake? It was completely new to me – and to Baltimore for that matter. But, I was excited. I love learning and I love food, so I was in. And, all of my questions were answered on that first visit. Now…a year later, after countless visits, tasting almost every cocktail, trying any dish they put in front of me and getting to know the people there, I can say with 100% certainty that it's the one place I want to go over and over.
A friend recently told me that she wasn't sure what to order on a recent visit to PABU. My advice? First, ask questions. Always ask questions (in general a good idea at restaurants, they want help you enjoy the experience) and go with what sounds good to you. Here is a short list of my go-to items. Cannot miss with these. And, this is just a jumping off point.

Happy Spoon (< click on this to learn more)

Ahi Tuna Poke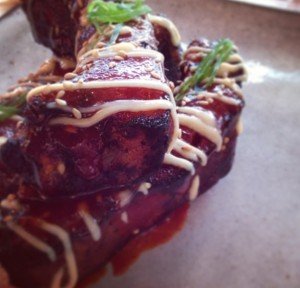 Chili Glazed Ribs

Ken Roll

Jonah's Fried Chicken
(it's not always on the menu…when it is, order it!)

Photo by PABU
The freshest fish in town. Period.
And, then there are the adult beverages. Sake, cocktails, beer and wine. And, the whiskey! So many choices. Again, let them guide you…especially on the extensive sake menu (it can seem very overwhelming) – PABU has the largest selection on the East Coast (Baltimore beats New York = fancy pants!) There is a sake for every taste – and you should definitely let them help you on the sake selections.
Head Bartender Nick Jones creates new cocktails all the time, so every time you go you can try something new. Here are some of my favorites.

Cobra Kai – sake, lillet rouge, white tea syrup,
lime juice and sparking wine
Sora – Hanger One Mandarin vodka, lemon,
strawberry, orange bitters and lemon bitter soda
Beika – gin, strawberry rhubarb syrup, lemon
and maraschino liqueur
As I go around Baltimore visiting restaurants, chefs and beverage folks, I ask…where do you want to go on your day off? The answer over and over? PABU. Seriously. We've (food) nerded out about the beauty that is the happy spoon, the general vibe of the place, the unbelievable sake list and more. The food and drink is top notch, but the service is also. At PABU, they take care of you. They want you to relax and have fun. (Done and done.)
While I realize that PABU might not be at the top of my list forever and ever…for now…it's my absolute fave. Give it a try. Go on a Wednesday…it's Happy Hour all night (hello, 1/2 price sake.)
Tell them I sent you.