Modern American.
Globally influenced.
Locally spun.
I recently sat down with Nancy Hart and Jerry Trice to learn more about their new restaurant, Gunther & Co., opening soon in Brewer's Hill.
As I entered the rehabbed space inside the boiler room of the old Gunther Beer factory at Toone and Conkling Streets, I was completely wowed. It is gorgeous. Exposed brick, steel beams, lots of light. The first thing you see in the huge front room bar is an oyster bar, then as you walk through the bar into the main dining room, look up. You can't not look up. The ceilings are over 30 feet high. The finishes are clean and modern, but warm and rustic, too. It all works.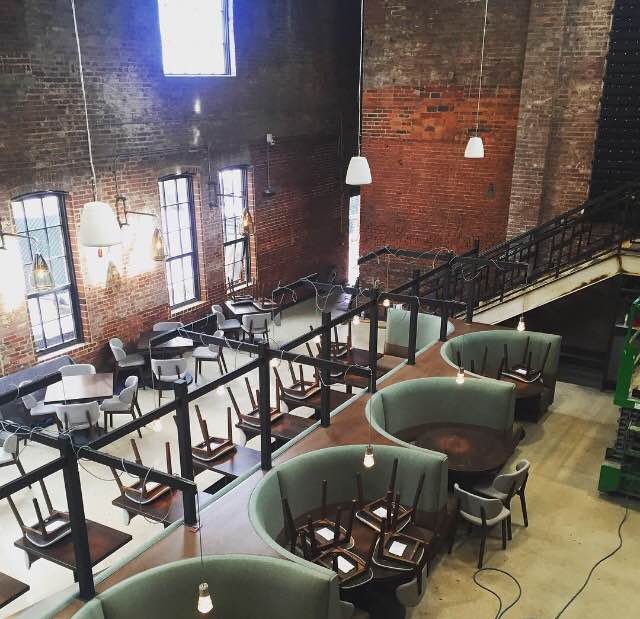 There is a big open kitchen, which was a must for Jerry, who will serve as Executive Chef. Up on the balcony, there is another seating area which would be great for larger dinner groups and events and a private dining room, which they are affectionately referring to as "the lair." And, it is worth noting that the table in the private dining room is supported by bases which were repurposed from autopsy tables (John Waters – you need to dine here…)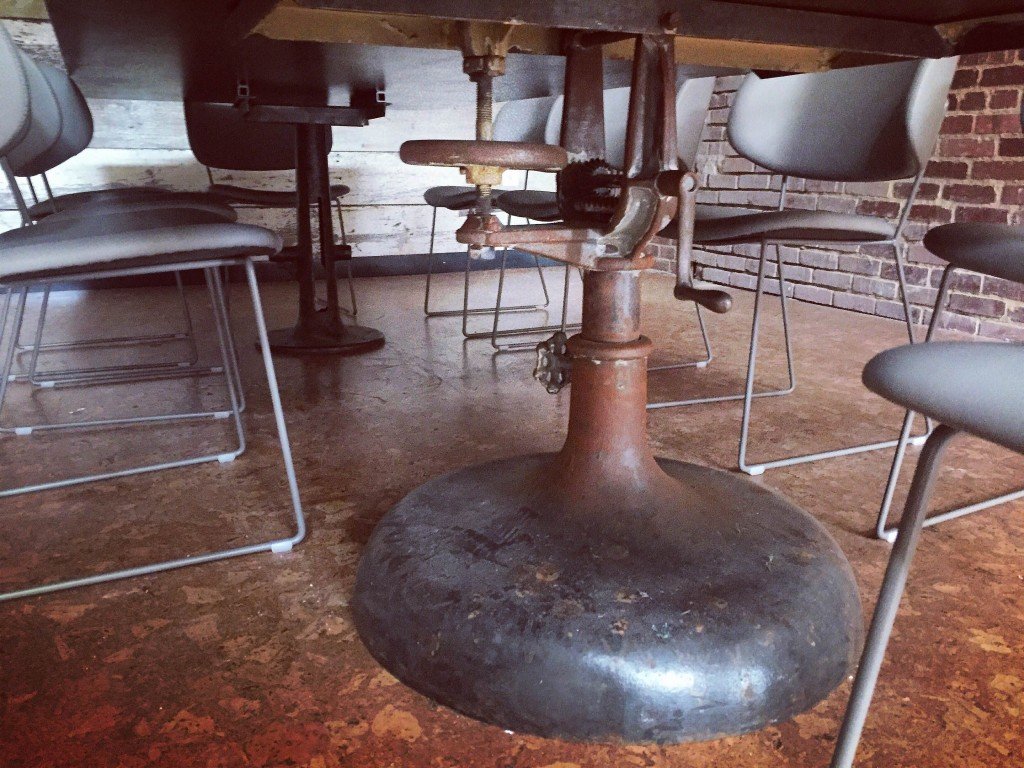 Chef Trice explains, "I like straightforward cooking. We'll do a lot of things on the wood-fired grill like proteins and clay pot casseroles. Comfortable food. We're not doing molecular gastronomy here. Clean, sharp focused flavors. The smoked duck is amazing. And I'm really excited about the burger – it'll have the perfect amount of fat and we're using local beef. Really, we'll do everything local that makes sense. To us, integrity of product is the most important thing."
They'll be open for lunch and dinner daily, plus brunch on the weekends. One thing that I'm really excited about – especially for my friends in the food and beverage industry – is that they will serve a specially designed dinner each Sunday night. Often on Sundays, busy restaurants are low on ingredients after very busy weekend nights. Chef Trice wants people to come in on Sunday nights knowing they will get a great meal. So, mid-week, he'll figure out what to order to make for Sunday nights. I love this idea. Chef Trice also told me that the menu overall is not huge. "I want you to feel comfortable here. I want you to trust us. We've got a great, tight menu."

With a bar the size of Gunther's, the beverage program is key and it will be in good hands with the talented Shaun Stewart, who was most recently at Bar Licorice in South Baltimore. Hart and Trice laughed as told me that they are "highly opinionated about wine." I like that. The bar will have 14 taps and the beers will pay homage to brewers past and present. Some locals will be on tap for sure. One of the taps will be dedicated to nitro and three for kegged cocktails. The kegged cocktails will change often, but know that one will often be a tequila cocktail, as Chef Trice loves tequilas.

I'm a "dinner at the bar" person and the idea of that at Gunther is a nice one. "We want you to sit at the bar, order several smaller items, trust your server to guide you. You should be able to see into the culture of the place. Eating at the bar will get you to see our vibe."

Trice and Hart want to be a part of the community, too. Last summer Trice participated in Chefs Cycle with other area chefs for No Kid Hungry, a national program that raises money to fight childhood hunger. After visiting an elementary school in East Baltimore last year with his fellow chef bicyclists, he Trice knew he wanted to do more. So, Baltimore matters to them. Hart is a native Baltimorean and is excited about being back home. She worked in the food world in New York City for many years and the two met when Hart was the General Manager and Trice was the chef at Yin Yankee in Annapolis. Says Trice, "Baltimore feels so welcoming. I just like it a lot."

Rounding out the back of house team are Executive Sous Chef Christina Bartoli and Pastry Chef Aja Cage.

Gunther & Co. is tentatively scheduled to open at 3650 Toone Street in early May. I can't wait.