Over the last eight years of being a part of a CSA with One Straw Farm, I've grown to love a few vegetables I'd never really liked at all – like celeriac and cauliflower. One that I keep trying that's still on that "don't like very much" list – eggplant. I wish I liked it. It's so beautiful. I guess I like like the idea of it…but, oh well.
So, cauliflower. It's my new fave. Comes in tons of colors and varieties…I tend to gravitate toward the purple and white when I see it at the One Straw Market booth at the market. I roast it and sometimes I just stand there in the kitchen eating it off the sheet pan. There, I said it. I stand in my kitchen eating. And usually, it's something that's just been roasted in the oven. I really need to make more of an effort to eat real meals in my house…but now, my dining room table is my desk, so….
I discovered this recipe on a website called Team Yogurt when I was looking for new ingredients to use with cauliflower. I'm a big fan of noosa yoghurt, so this was also a great way to use some noosa lemon yoghurt I had in the fridge.
I hope you enjoy it. I sure did.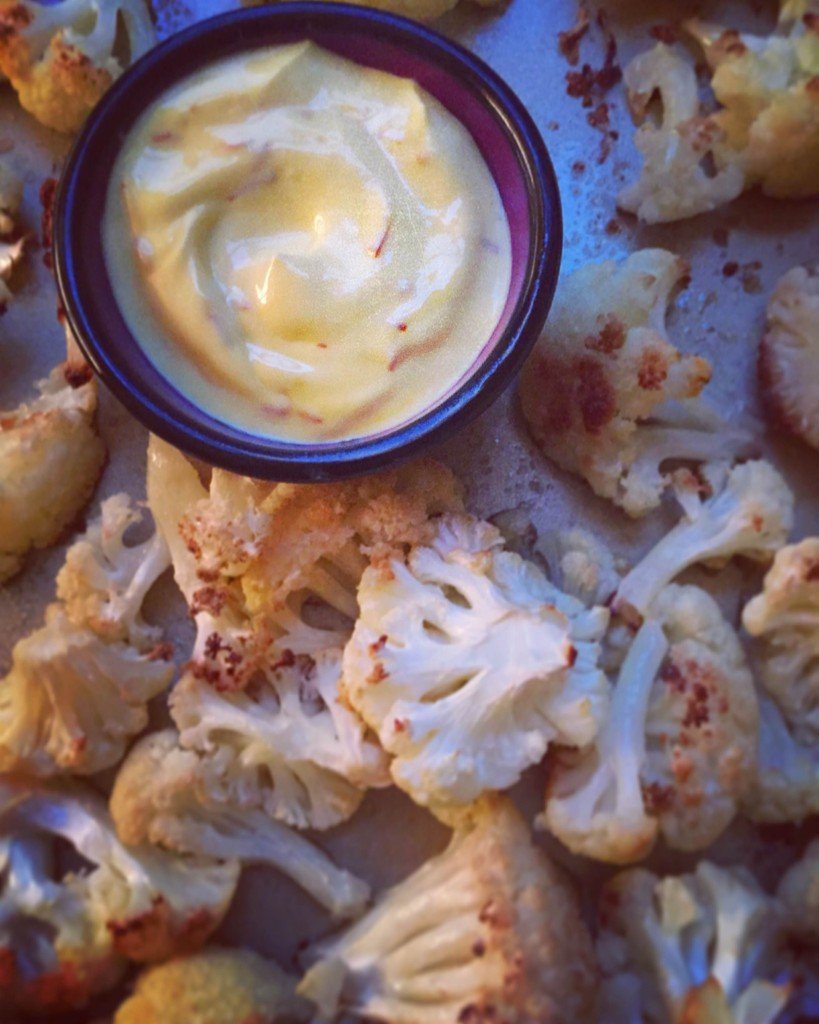 Shefaly's Roasted Cauliflower and Savory Shrikhand
Makes 4 servings
For the dip:
1 cup noosa lemon yoghurt
1⁄4 teaspoon kosher salt
1⁄2 teaspoon crushed saffron
For the cauliflower:
2 to 3 small heads cauliflower
1⁄4 cup extra virgin olive oil
1 teaspoon kosher salt
1 teaspoon ground cumin (or spice of your choosing)
6 cloves garlic, minced
Preheat the oven to 450°F.
For the shrikhand dip: In a small mixing bowl, stir the yogurt until completely smooth. Add the salt. Carefully sprinkle in the crushed saffron, and mix thoroughly. Set aside. The color will deepen over time. Stir again before serving.
For the cauliflower: Chop cauliflower into medium-size florets and place in a gallon-size zip-top bag.
Pour in the oil, salt, cumin (if using), and minced garlic. Seal the bag and shake to coat the florets evenly with the oil and spices. (Alternatively, combine the cauliflower, oil, and seasonings in a large bowl.)
Distribute the seasoned florets into a single layer on baking sheet.
Roast for 20 to 25 minutes, then stir and flip. Cook for about 10 minutes longer, until deeply browned in spots. Serve warm or at room temperature with the shrikhand dip alongside.