"Velvety. It's velvety." That's me and a fellow food nerd finally coming up with one word to describe noosa yoghurt. Velvety.
I just discovered noosa, thanks to a recent breakfast event with Trends on Trends at Maketto in DC. The buffet was filled with tons of flavors of noosa and ingredients to mix in (like granola, honey, nuts) and I am fairly sure I tasted every flavor they brought along. What struck me as much as the balance of flavor was the texture. I have texture issues with food, so I am often disappointed with yogurt — too watery, too chunky, etc. — but honestly, noosa is almost pudding-esque – without the sweetness.
It's hard to choose a favorite flavor but I have to say tart cherry. And I would never ever believe that would've been my favorite. The tartness with a tiny bit of sweetness is perfect.
On a recent phone interview, noosa co-founder Koel Thomae (her Aussie accent is incredibly charming and endearing, as is she) told me the story of how she discovered this amazing yoghurt. "It was 2008, I was working for a startup and visiting Australia on holiday. We tasted this yoghurt that was like nothing I'd ever had before. I was obsessed. I mean, obsessed. My mom was like, "stop talking about this yoghurt unless you're going to do something about it." So, we called the company owners and ended up meeting at a surf shop over beers. We hit if off right away and kept in touch. After our meeting, the family gave me the license and instructions on how to make it. Then we met "Farmer Bob" at a family dairy farm in Northern Colorado and began working together. We launched the first noosa tubs in Colorado in 2010. It was so exciting! We grow the feed for the cows, they get no growth hormones and we use humane practices. That's really important to us. Now that we're growing, we are sourcing all of the dairy from several family farms within an hour of noosa."
The folks at noosa go at this whole yoghurt thing differently. First, they use full fat, whole milk – that's why the flavor and texture are so good. Also, honey and simple fruit pureé. That's it. Some of Noel's favorite flavors? She says, "The coconut is like a dessert. Kind of like ice cream. And my favorite, favorite is Passion Fruit, but it's a limited edition one and it's on walkabout (Aussie for out of stock) until sometime in January.
What's next for this forward-thinking, creative company? "Growing the flavors," says Noel. "We'll be doing a lot of flavor research in the US next year. We want to be true to the flavors we love but also give our customers new options. Seasonal flavors are really important to us, like you know…blood orange, salted caramel, pumpkin, etc. But you should always be able to find the core flavors like lemon, honey, raspberry, etc."
You can buy noosa yoghurt locally in Baltimore at Whole Foods, Wegman's and Giant. Yum.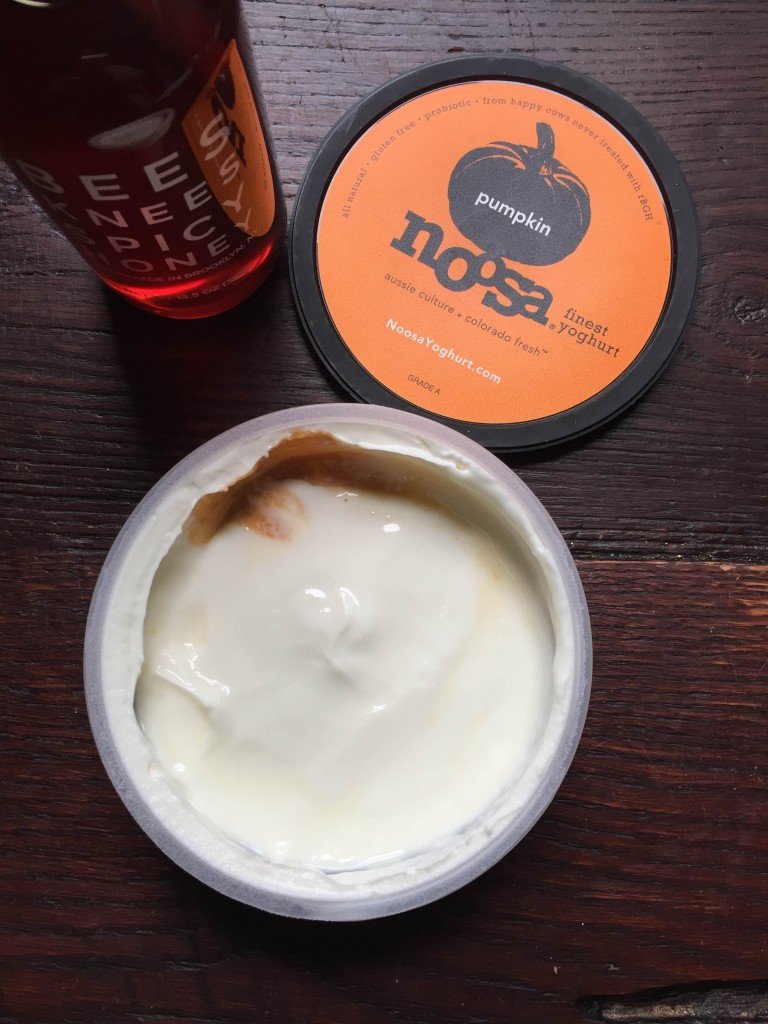 noosa pumpkin yoghurt with Bees Knees Spicy Honey